Meta has just rolled out the option to use the same WhatsApp account simultaneously on multiple devices in the beta version of the app. But you can take advantage of it today. Here's how.
For several months now, Meta has been working on the possibility of using a single WhatsApp account simultaneously on several devices. If it was until now possible to use your account simultaneously on a single smartphone, and on several computers (via WhatsApp Web or WhatsApp Desktop applications) or tablets, the application seems to have taken a new step this time. .
Meta has just extended this "companion" mode for use on other smartphones. WABetaInfo, the source of this discovery, unearthed this new feature in the latest beta version of WhatsApp on Android. Unfortunately, the beta program for this new version of WhatsApp is already complete. It is nevertheless possible to take advantage of this novelty without further delay, even if the beta is closed.
1. Download WhatsApp Beta APK
start with download whatsapp beta apk on the secondary Android smartphone on which you want to use your account.
This new feature is available from version 2.22.24.18 of the application. Once the APK file is downloaded on your smartphone, install it on your device. If you already use WhatsApp on your device, the installation should show up as an app update.
2. Connect another device to your WhatsApp account
Now open the freshly installed WhatsApp beta on your secondary smartphone. On the application configuration page " Welcome to WhatsApp ", Push the button Agree and continuedisplayed at the bottom of the screen.
You should then find yourself in front of the screen prompting you to enter your phone number. Press the options button represented by three small dots, at the top right, then in the menu that is displayed, choose to Connect a device. WhatsApp will then display a QR Code on the screen.
3. Validate the connection
Now grab your main smartphone, open WhatsApp and meet in the Settings. Then enter the menu Connected devices and press the button Connect a device. Scan the QR Code displayed on the screen of your secondary device using your primary smartphone.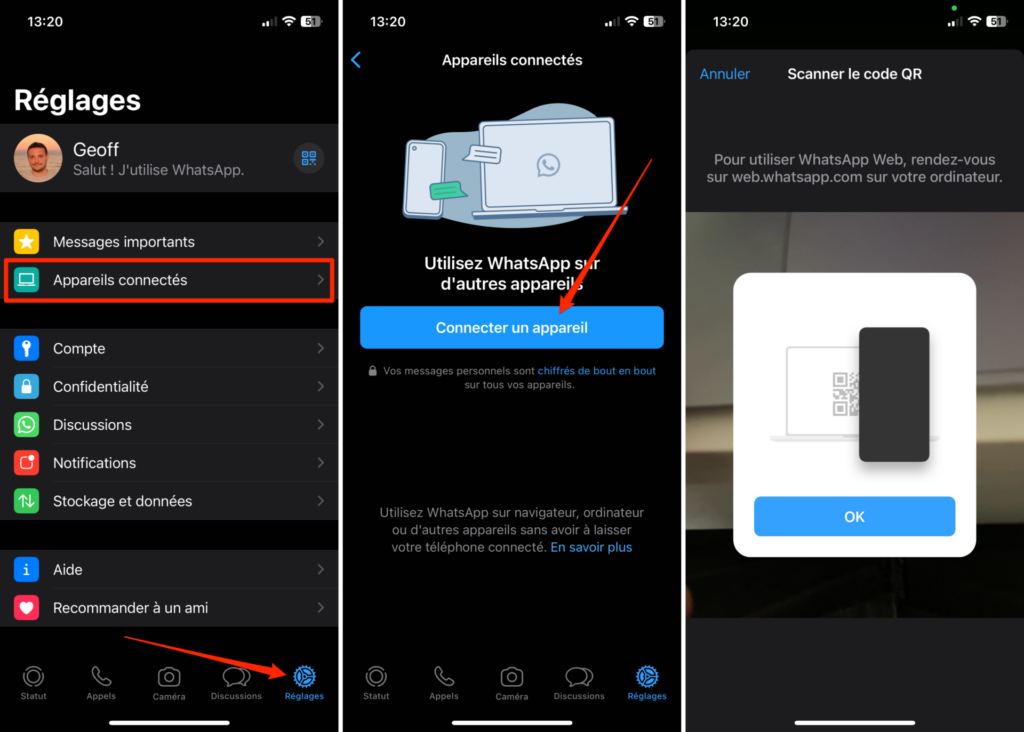 Your secondary smartphone should then begin the synchronization process with your primary smartphone. After a few minutes, all your messages should be accessible there.
4. Disconnect your secondary smartphone
If for some reason you no longer want to use your WhatsApp account on your secondary smartphone, you can disconnect it directly from your primary smartphone.
To do this, open WhatsApp, go to the Settingsthen in the menu Connected devicesselect your secondary smartphone and press the button Logout.
WABetaInfo