My dear impertinents, dear impertinents,
Finally !
Finally the Medef rattles a little.
Is Medef suddenly becoming anti-European? What am I saying Europhobe even? Euro-skeptic shall we say?
No way !
The Medef finally wakes up and comes out of its torpor because there is no longer a choice and the French economy and our companies will die in horrible suffering linked to the price of energy even before global warming can kill us.
So yes, finally, French employers want to change the European pricing mechanism
Here is what Le Figaro tells us in this article (source here)
"The Medef sounds the olifant. Faced with soaring energy prices – + 360% in gas prices in Europe between September 2021 and 2022 and + 391% for electricity – employers are calling for urgent measures. "This phenomenon is deeply recessive", insisted this Wednesday during a press conference Geoffroy Roux de Bézieux, the president of the organization, evoking cases of companies forced to reduce the airfoil.
The Medef then evokes a risk of deindustrialization and relocation. We have some signals from companies that are postponing plans to open new sites, said Geoffroy Roux de Bézieux. Some may also be tempted to reduce the workload of their European factories to increase those of the American or Asian sites. »
The president of Medef finally realizes, or more precisely finally dares to say it as the situation is serious.
Finally, he dares to say that we have a huge problem of competitiveness for our companies, vis-à-vis China, Asia and the United States where gas prices are five to seven times lower than those practiced in Europe. .
Finally, he dares to say that Germany's announcement of a cap on the price of electricity at 130 euros/megawatt hour, for Poland at 180 euros or even that for Spain and Portugal, it will be 200 euros that French companies buy at prices above 500 euros poses a real problem of distortion of competition between European countries.
Moreover, Roux de Bézieux also finally dares to say that he "cannot imagine that the European Commission would let this every man for himself continue".
The President of the Medef therefore finally, and again finally, that "we are quickly waiting for the Commission to redo what is called market design – the fixing of the price of electricity – which today is a system which does not does not work anymore ".
The problem is that Germany, which does not want nuclear power, does not want France to be able to have electricity sold at low prices. The problem is the Franco-German couple on the verge of divorce and the Europe of a crisis which will perhaps be fatal to it, because Germany no longer wants, in reality, Europe and the compromises it implies. .
So if I was teasing, I would say that shock absorbers, shields and other one-stop shops will be useless. It is time for the government to do what it knows how to do so well.
Take a real, real, genuine measure.
I plead for the creation of a number to which each business manager can call and explain what he needs in terms of energy. An official will then explain to him how to do without it.
But as you know, I'm never teasing.
We are run by donkeys. My chickens and my cat would do better.
It is already too late, but all is not lost.
Prepare yourselves !
Charles SANNAT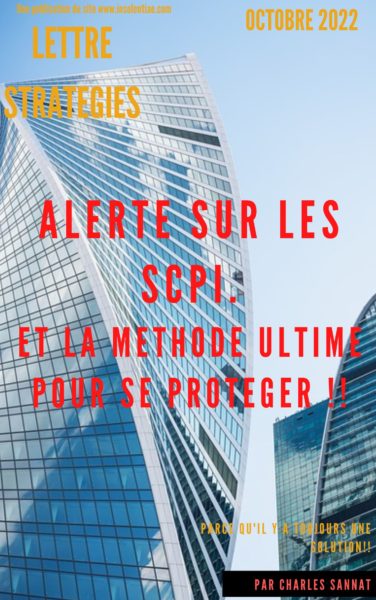 "Insolentiae" means "impertinence" in Latin
To write to me charles@insolentiae.com
To write to my wife helene@insolentiae.com
You can also subscribe to my monthly newsletter "STRATEGIES" which will allow you to go further and in which I share with you the concrete solutions to implement to prepare you for the next world. These solutions are articulated around the PEL approach – heritage, employment, location. The idea is to share with you the means and methods to put in place your personal and family resilience.
"To stifle peaceful revolutions, one makes violent revolutions inevitable" (JFK)
"This is a 'presslib' article, that is to say free of reproduction in whole or in part provided that this paragraph is reproduced following it. Insolentiae.com is the site on which Charles Sannat expresses himself daily and delivers an impertinent and uncompromising analysis of economic news. Thank you for visiting my site. You can subscribe to the daily newsletter free of charge at www.insolentiae.com. »